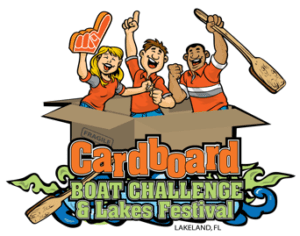 The  "18th minus 1" (So Close, Yet So Far) Annual Lakeland Cardboard Boat Challenge & Lakeshore Festival
Is On
SAVE THE DATE: SATURDAY, OCTOBER 9, 2021
---
PROJECTS:
LAKESIDE DISPLAY SIGNS
Lakes Education/Action Drive, in cooperation with partnering organizations, places educational signs in local nature parks and near lakes to provide lakeside outreach in the community. These signs include factual information about wildlife and fish species found locally, the importance of aquatic vegetation, water quality, and more. To view the current location of LE/AD signs, click on the link below.
LE/AD has been instrumental in establishing lakeside displays around lakes in Polk County. Lakeside displays inform the public about lake preservation with information on water quality, lakeside habitat, flood protection and watersheds. LE/AD works collaboratively with the cities around the county as well as the county on content and layout of these signs.
---
STORMWATER PLAQUES
LE/AD has aluminum drain plaques for sale to help explain to people that only stormwater is to go down the stormdrains. These plaques are available for $2.50 per sign plus shipping.
---
ALLIGATOR SIGNS
LE/AD also has aluminum alligator signs warning about the dangers of alligators. These signs are great for lakes and ponds. These signs are available for $15 per sign plus shipping.
---
SPECIAL EVENTS:
Lakes Appreciation Month Celebration
The North American Lake Management Society (NALMS) designates the month of July as Lakes Appreciation Month around the nation. LE/AD participates each year in this celebration of our lakes. LE/AD works collaboratively with the City of Lakeland, Keep Polk County Beautiful, the City of Winter Haven, Lakeland Clean & Beautiful and Keep Winter Haven Clean & Beautiful to organize a countywide clean up along lakeshores during the month of July. Volunteers register to receive equipment and pick the time and day to clean up their favorite lake.
Please see all the information on LAM above (including link to registration) or on LE/AD's home page. Click to go to NALMS.org