Re-Blogged from the University of Florida, IFAS….
Today, like every June 8 since 1992, many people around the globe celebrate World Oceans Day. This event was created to advocate and inspire people, communities, and nations to take action on the sustainable use, protection, conservation, and preservation of the oceans and their inhabitants.
Every year, there is a theme for World Ocean Day. This year's theme is "revitalization: collective action for the ocean." This theme recognizes that people around the globe need to work together to protect our oceans. And we should be on it; after all, the oceans produce at least half of the world's oxygen, feed billions of people, contribute to the world economy, and host the most biodiversity on Earth.
Therefore, I am challenging you to join me to help revitalize our oceans by being part of the solution to a global problem; the problem of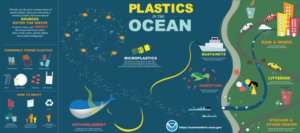 marine debris, especially the problem of plastic pollution. Plastics are the most common form of marine debris.
Marine debris is defined as any persistent solid material that is manufactured or processed and directly or indirectly, intentionally or unintentionally, disposed of or abandoned in the marine environment or the Great Lakes. In other words, products created by us that end up in the oceans.
Among the impacts of marine debris are damage to habitats, economic loss, damage to infrastructure, navigation hazards, facilitation of transport of invasive species, and negative impacts on human health and wildlife.
The great news is that there are many things that you can do from where you are to help and take action. Things that you can put into action at home, at school, at the store, on the water, and the shore, and that will make a big difference in our efforts to help our oceans, and to help ourselves.
Happy World Oceans Day. Say no to single-use plastic products. Do your part. And, enjoy the oceans.
by Armando Ubeda
Posted: June 8, 2022
https://lakeseducation.org/wp-content/uploads/2021/11/lakes-education-logo-FINAL.png
0
0
lead-executive-director
https://lakeseducation.org/wp-content/uploads/2021/11/lakes-education-logo-FINAL.png
lead-executive-director
2022-06-08 11:50:19
2022-06-08 11:50:19
Happy World Oceans Day! Easy ways to celebrate by helping